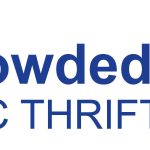 Crowded Closet Thrift Store, Director, $65-75K, crowdedcloset.org
Crowded Closet Thrift Shop, a large non-profit retail thrift store, is seeking an experienced servant leader to fill the role of Director. If you value bringing people together around a cause, building relationships, and working with purpose, this could be the role for you! Lead in setting goals for continued shop growth and develop strategies for future advancements to our culture of excellence. You would work alongside a passionate team of staff and volunteers dedicated to fulfilling the mission of Mennonite Central Committee to share God's love and compassion for all by responding to basic human needs and working for peace and justice. Visit crowdedcloset.org for details. Apply by September 5.
Operational Excellence: Work with the Board of Directors and Leadership Team to develop and implement Crowded Closet's strategic plan and ensure alignment with its mission and values. Oversee all operations and provide leadership to management of donation receiving, processing, retail, and online sales.
Talent Management: Build and lead an effective team that is dedicated to fulfilling Crowded Closet's mission.
Performance & Standards: Ensures financial and business control through planning and reporting.
Services and Programs: Ensures continued community involvement and education regarding the mission of Crowded Closet.
Safety and Asset Protection: Ensures safety and protection of employees, assets and facilities.