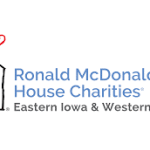 Ronald McDonald House Charities
This position is an integral part of the team that works to ensure RMHC-EIWI is successful in achieving financial goals and ensuring stakeholders, donors, and third-party fund-raisers are engaged and satisfied. The Development Coordinator supports the planning, implementation, and evaluation of development activities, including but not limited to: events, campaigns, third party fundraisers, and annual giving.
This is a full-time, non-exempt position with full benefits, including paid individual medical, dental and vision insurance as well as generous time off and free parking. Other benefits of the position include 401k and flex spending account both of which include automatic employee contribution, and mileage reimbursement. This position reports to the Chief Development Officer. Work schedule is Monday-Friday with occasional evenings and weekends as needed for charity events.