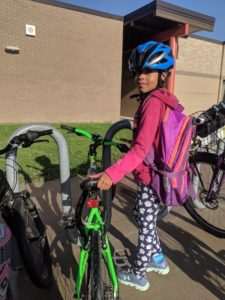 The Iowa City Bike Library has a simple goal: to get working bicycles to those who need them. For the last two years, the program has not only given bikes to many of our area's youngest residents, but also taught them the basics of safe riding through Bike Club, a project run in conjunction with the Neighborhood Centers of Johnson County.
Bike Club provides a helmet, lights, and a properly fitted bicycle to each child in the Neighborhood Center's summer programs. It also organizes group rides to and from select schools during the academic year and trains volunteer mechanics in the art of refurbishing children's bicycles, which are all donated and need various levels of repair.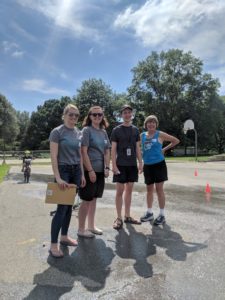 "A bad bike, or one that is the wrong size, is a poor introduction to the sport," Audrey Wiedemeier, Bike Library director said. "They won't necessarily enjoy or want to stick with riding, which is the goal."
Learning to ride is a revelation, especially for children who have never biked before.
"When they realize 'I, too can do this!' it's a wonderful thing to be part of. Their faces just light up," said Wendy Brown, a volunteer who helps teach basic riding skills.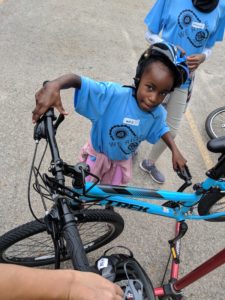 After the basics are mastered, the groups ride all over Coralville and Iowa City learning important community and safety lessons while having fun.
"The rides are great," noted participant Galia War, who starts seventh grade at Northwest Junior High this fall. "But they also teach you how to shift and how to fix your chain if it falls off, which is important to know."
The program was supported this year by a grant from the Community Foundation of Johnson Country. The University of Iowa's College of Public Health also collected data on the effectiveness of the safety training. Iowa City's A.M. Rotary Club purchased a bike trailer for the project.
Participating children are in kindergarten through sixth grade and many of them are from families that immigrated to the United States from African and Latin American countries. Often their families face language, economic, and cultural challenges, according to Neighborhood Center information.
2018 was the first year of the program, and it provided bikes and safety training to 48 students. This year the program served at least 80 children.
"Biking challenges them, but in ways they can handle," Wiedemeier said. "Even kids who have a hard time on a hill, they get to the top and see it was within their reach."